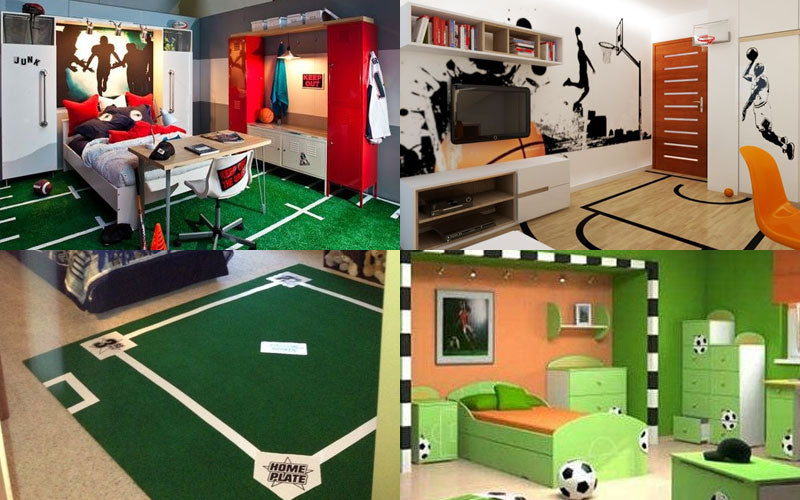 News
Sports Themed Bedrooms Ideas and Combinations for your little All-Stars!
Feb 09, 2018
Chris Anders
SPORTS THEME BEDROOM IDEAS
I think you'll agree...
Watching your child play a sport that they love is one of the greatest feelings a parent can have.
When they truly excel at a sport...
You see the passion in there eyes, their relentless desire to compete.
For every HIT they make,

Every SHOT they take,

and Every GOAL they score,

you're there to encourage them every step of the way!!!
Perhaps It's been days since Chase hit that home run out of the park...
or just last week Harper scored the game winning basket for her middle school basketball team!!!
We get it...
You're little athletes are hitting their strides in game winning fashion and you want to show off your admiration of the sports they're excelling at...
...perhaps by adding a few sports related touches to their bedrooms and bathrooms?
When it comes to finding DIY plans for sports themed bedrooms, there are so many ideas..
It could the a minor touch of a personalized rug, blanket or mat, or something more extreme like a painted mural, or even a real basketball hoop, Soccer Goal or Swimming pool!?!  
Well, perhaps the pool idea is a little far fetched,
but you at least get the idea.  
The sky's the limit when it comes to Children's bedroom decor and more specifically sports decor.  Maybe you want a wall of trophies, or a real life diving board, whatever "IT" is, we'd like share some of our ideas with you.  
We scowered the inner web and came up with some ideas for you to use for your bedroom makeover!
...and we love playing the football just as much as we love watching it.
When it comes to decorating your bedroom for football, we have a few ideas.
Now, If you can manage to utilize some of these ideas, You will surely have the best Football Theme Bedroom in the nieghborhood.
What's not to love about basketball?
Whether you're posting up, or shooting from beyond the arch for a 3 point shot...
Your passion for the game doesn't have to end on the court.

Take a peak at some of these Basketball Room Ideas that will surely set your room apart from the rest!
with it's illustrious history and many greats who have graced us with their presence on the diamond,
we have to admire the sport that brings us 9 innings of entertainment.
When it comes to bedroom decor, the sky's the limit with baseball themed rooms.
A game of Passion... teamwork, passes, crosses and tremendous goals.  
Soccer is a huge part of our designs and we love these soccer bedroom ideas too
What's not to love about Hockey?
Good skaters, tough players, skillful goal scorers and tremendous passing make this game fun to watch and play.
Checkout some of these hockey bedroom decor ideas.
Because she loves to compete, and just being in the dug out,
the sound the ball makes when coming off her bat.
She love to win, but most importantly, she loves the lessons learned and all friendships she's developed over the years.
Here are some Decor Ideas for the Softball player in your household.
Brraaap... did you hear that sound?

That's the sound of someone riding their dirt bike past you.

Don't sandbag or Whiskey Throttle, but STEP UP,and ride like the wind.
Checkout some of these Motocross bedroom decor ideas.
Whether you're hanging 10 or doing a kick out off the crest of a wave,
when you love the surf it doesn't matter your style.
If you love to surf then you'll love these surfing theme bedroom ideas.
Whether you're skating at a park, on the streets or a backyard half pipe,
when you love the skate it doesn't matter where you are, you can enjoy this sport anywhere.
If you love to skateboard then you'll love these skateboarding bedroom decor ideas.
If you contstantly hear the terms, "haro, windells, fakie, rad, and street" around your inner circle, then chances are you're into BMX racing.
If you love to ride BMX then you'll love these BMX Bedroom Decor ideas.
SCUBA DIVING may not be considered a sport...
but we love it just as much as any other sport.
If you love to scuba dive then you'll love these scuba diving bedroom decor ideas.

We hope this month's blog inspires you to be creative and come up with new ideas for your children's sports themed bedrooms and as always, feel free to let us know your thoughts... we'd love the hear your ideas too.
Visit our Sports Themed Bedrooms Board on Pinterest and Feel free to contact us and let us know.  https://www.pinterest.com/2cooldesigns/sports-themed-bedrooms
Related post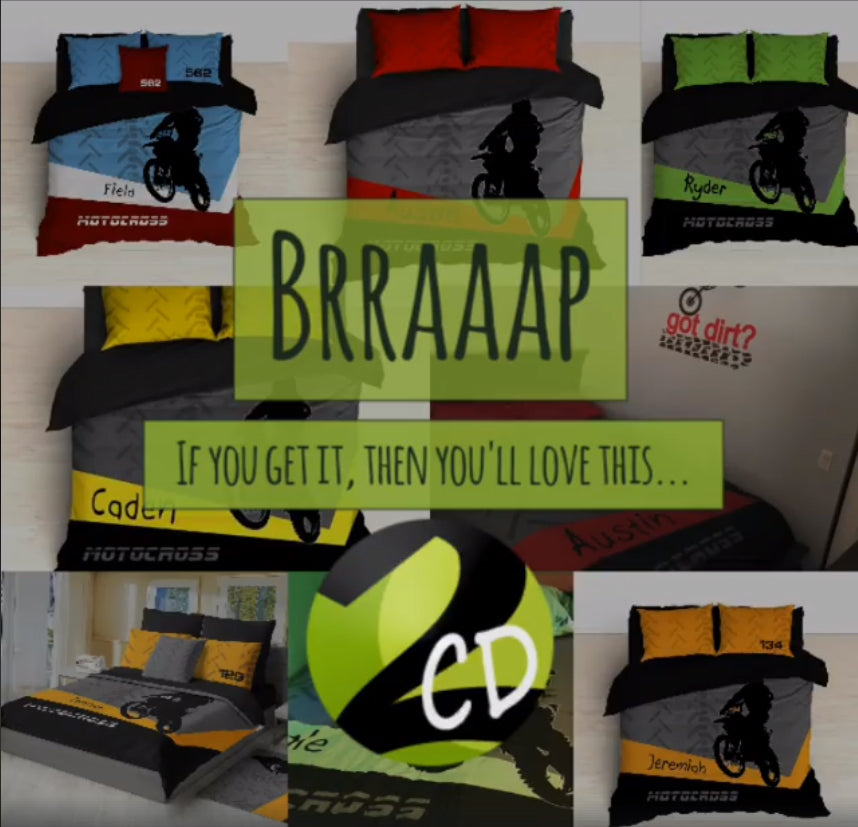 Feb 09, 2018

By

Chris Anders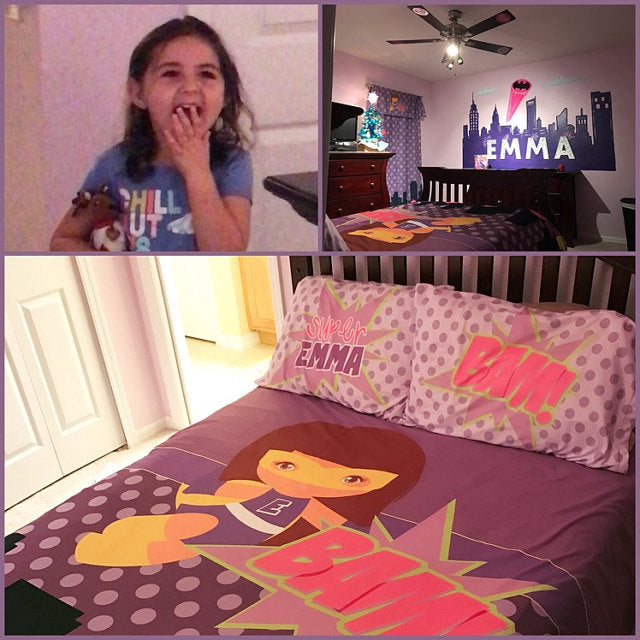 Feb 09, 2018

By

Chris Anders
Our customers are the greatest, and we hear your kind words, awesome requests and devoted following. We wanted to take...
read more
Recent posts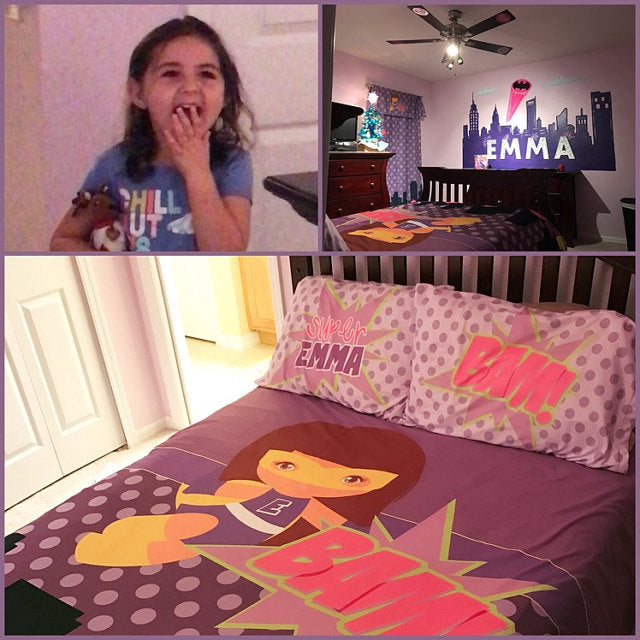 Maximum products to compare. Limit is 3!

Maximum products to compare. Limit is 3!

Liquid error (layout/theme line 300): Could not find asset snippets/spurit_uev-theme-snippet.liquid